Chiropractic Care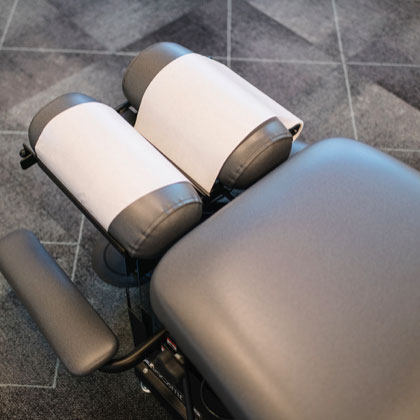 More and more today, people are seeking out non-drug solutions that don't involve risky inpatient procedures. Chiropractic is considered to be an effective, safe and natural way to help your body heal. Dr. Jenna and Dr. Jacy at Thrive Chiropractic & Wellness Centre is skilled in providing care for you and your entire family. The many techniques they may use in your care includes
Chiropractic FAQs
Whether you're a regular chiropractic patient or have never been to a chiropractor, you're welcome at Thrive Chiropractic & Wellness Centre. Know that all of your concerns will be thoroughly addressed by our team. Below, you can read through some of the most frequently asked questions we receive.
Once I go to a chiropractor, will I have to continue forever?
We always encourage you to maintain chiropractic care because that is what is best for your body! We will create a treatment plan for you individually that addresses your specific concerns and goals – but ultimately how often you come and for how long is always your personal choice.
No, an adjustment should never hurt! We always ensure you understand what we are planning to adjust, take into account how you prefer to be adjusted, and gain your consent before adjusting. The force of a chiropractic adjustment is always gentle and deliberately delivered to the area of concern.
Why would a newborn or child need to see a chiropractor?
We see babies and children every single day for many different concerns, but also for wellness checks after being born! Whether your little one is struggling with breastfeeding/latch concerns, sleep disruptions, constipation, reflux, growing pains or something else entirely, chiropractic care can be effective in helping them (and you!) find relief. By correcting misalignments in their bodies, we are able to restore proper function to the spine and nervous system allowing them to have the best foundation right from the beginning!
Does insurance cover chiropractic?
We direct bill to most major insurance companies, and many do cover chiropractic care! You are always welcome to contact your insurance provider directly to see what your individual plan may cover, or bring your benefits card with you to your first appointment and we can try to direct bill for you!
Do I need a referral to see you?
Absolutely not, we never require a referral from a medical doctor! Although we love receiving direct referrals from our patients, we are happy to see everyone for an appointment and share the benefits of chiropractic care with our community!
Do you work with medical doctors?
If you have a specific concern that you are working towards addressing with a medical doctor, we can absolutely work in conjunction with them, or request your records on your behalf if you would like us to!
We also work alongside the other practitioners on our team and in the community to ensure continuity of care across all treatment types.
Will I be adjusted on my first visit?
As long as our chiropractors deem it safe to adjust, then yes! We always begin our new patient exams with a thorough consultation, health history and physical assessment to ensure your safety and wellbeing prior to making any adjustment.
Will you recommend anything other than chiropractic adjustments?
We love to work in conjunction with the rest of our team at Thrive so we will often encourage you to incorporate massage therapy, acupuncture, craniosacral therapy or naturopathic medicine into your care plan as well, depending on your specific concerns and goals! We may also include stretching and strengthening exercises to utilize alongside your chiropractic adjustments.
Can I see a chiropractor if I've had back surgery?
Yes! After discussing your health history, including any previous surgeries or procedures, we will tailor a plan to you individually to ensure you receive safe and effective care!
Is chiropractic safe during pregnancy?
Yes! Not only is chiropractic care safe during pregnancy but it is also incredibly beneficial! All of our family chiropractors have a special interest in pediatric, prenatal, and postpartum care and have taken extensive additional training with the International Chiropractic Pediatric Association to provide the specialized care mamas need and deserve! Dr. Jenna, Dr. Jacy and Dr. Dana are also certified in the Webster Technique, which is a specific chiropractic analysis and adjustment that reduces interference to the nerve system and balances maternal pelvic muscles and ligaments.
Contact Us Today
We have same-day visits available. Call or email our office today to schedule your first appointment!
CONTACT US »
---
Chiropractic Care Southwest Edmonton AB | (780) 244-2441