Chiropractic Care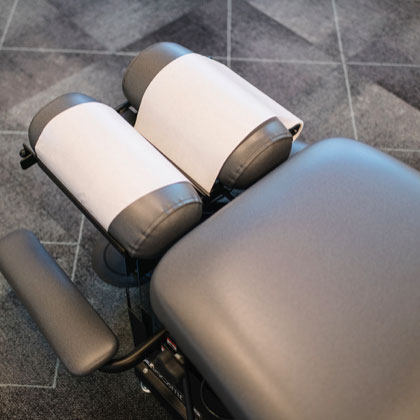 More and more today, people are seeking out non-drug solutions that don't involve risky inpatient procedures. Chiropractic is considered to be an effective, safe and natural way to help your body heal. Dr. Jenna and Dr. Jacy at Thrive Chiropractic & Wellness Centre is skilled in providing care for you and your entire family. The many techniques she may use in your care include
FAQ
Whether you're a regular chiropractic patient or have never been to a chiropractor, you're welcome at Thrive Chiropractic & Wellness Centre. Know that all of your concerns will be thoroughly addressed by our team. Below, you can read through some of the most frequently asked questions we receive.
Once I go to a chiropractor, will I have to continue forever?
No. It is every patient's decision how much they want to benefit from our care. Your plan with us will be focused on your particular goals.
No. We make it as a gentle as possible while ensuring your spine moves as it should and your nerves function properly.
Why would a newborn or child need to see a chiropractor?
Research indicates that the birthing process is incredibly stressful for a baby. We can check them to make sure that no spinal misalignments have occurred during the delivery process. By making any needed corrections, we can ensure that their bodies have better overall function.
Does insurance cover chiropractic?
Some insurance plans may cover chiropractic. We'll be happy to look into your coverage when you come in for your first visit.
Do I need a referral to see you?
No. You can see a chiropractor without a referral.
Do you work with medical doctors?
Yes. We'll work with any of your other doctors.
Will I be adjusted on my first visit?
We occasionally adjust on the first visit depending on the situation. If X-rays are required, you'll be adjusted later that day or the next day after Dr. Jenna or Dr. Jacy has reviewed your X-rays.
Will you recommend anything other than chiropractic adjustments?
Dr. Jenna or Dr. Jenna may give you stretching and strengthening exercises as appropriate for you. If we think that you could benefit from seeing another practitioner, we'll refer you to them, too.
Can I see a chiropractor if I've had back surgery?
Yes! We can provide the safe and effective care you need.
Is chiropractic safe during pregnancy?
Yes. Dr. Jenna has taken a special interest in prenatal and postnatal care with the International Chiropractic Pediatric Association (ICPA). She is also certified in the Webster Technique, which works specifically with pelvic balance during pregnancy to reduce in-utero constraint.
Contact Us Today
We have same-day visits available. Call or email our office today to schedule your first appointment!
CONTACT US »
---
Chiropractic Care Southwest Edmonton AB | (780) 244-2441