Acupuncture in Southwest Edmonton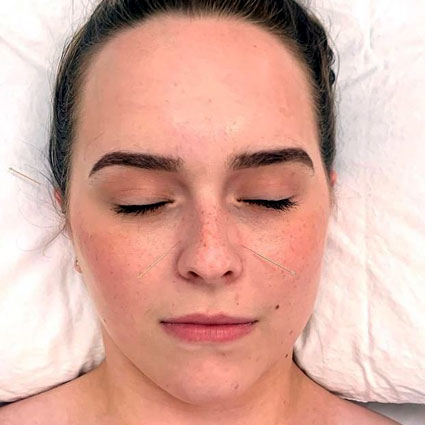 Acupuncture and Traditional Chinese medicine (TCM) have been practiced for thousands of years with great success and have become a popular modality in Western society due to it's benefits and the increased desire by many to treat the body holistically.
At Thrive Chiropractic and Wellness Centre our talented Acupuncturists can help address a variety of different health concerns including pain management, fertility, pregnancy support and pediatric conditions. It can also help in addressing the following conditions:
Fatigue
Depression
Rashes
Insomnia
Reproduction System Disorders
Ringing in the Ears (Tinnitus)
Post-Stroke Conditions
Allergies
Migraines
Neck
Shoulder and Back Pain
Sciatica
Sports Injuries
Respiratory Conditions
PMS
Pediatric Conditions
At Thrive Chiropractic and Wellness Centre we have a special passion for treating Women's Wellness and Fertility Concerns. Our Registered Acupuncturists create individualized treatment plans and work alongside our other practitioners to help address your wellness goals. Our Registered Acupuncturists also offer an experienced approach to treating sports medicine, musculoskeletal conditions and in incorporating acupuncture treatments for optimizing wellness.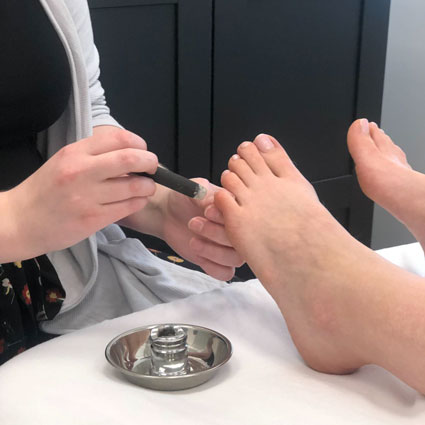 What to Expect
At your first acupuncture appointment at Thrive Chiropractic & Wellness Centre, your Registered Acupuncturist will begin by reviewing your health history, addressing any current concerns or symptoms you may be experiencing and discussing your overall wellness goals.
Your acupuncturist will then explain the treatment and begin your appointment by leaving the room and asking you to undress to your comfort level. After reentering the room your practitioner will begin inserting the needles at a pace that is comfortable for you. The needles will remain in place for the majority of your appointment, and then will be removed at the conclusion of the treatment.
Following your appointment your practitioner will discuss with you an individualized treatment plan going forward. If your acupuncturist determines that you would benefit from seeing another healthcare professional, they will make the appropriate referral at this time.
Your initial appointment will be 90 minutes in length with follow up appointments being typically 60 minutes in length.
Acupuncture involves the insertion of thin needles along different
meridians or points in the body. When needled, these points are stimulated, promoting increased blood flow to the area, encouraging healing. This process helps to reduce tension and stress while promoting relaxation through the release of endorphins.
Our Acupuncturist also incorporates the following TCM modalities in her treatments:

Fire Cupping
TuiNa
Moxibustion
Clean Needle Technique (CNT)
"Surround the Dragon" technique
Electric stimulation
Acupressure
Diet advice according to TCM
Scalp acupuncture and
Ear acupuncture
| | |
| --- | --- |
| Adult New Patient Appointment (90 Minutes) | $150 |
| Pediatric New Patient Appointment (60 Minutes) | $135 |
| Adult Follow Up Appointment (60 Minutes) | $110 |
| Pediatric Follow Up Appointment (30-45 Minutes) | $90 |
| Fire Cupping – No Needles (30 Minutes) | $45 |
FAQ
This is the most common question I get as a practitioner. Not at all! Getting acupuncture does not feel the same as getting an immunization or blood taken. The needles are a fraction of the size and very thin; most of the time, you don't even feel them go in. The majority of patients feel completely at ease during their treatments and find it relaxing, some even fall asleep.
Is acupuncture covered by my benefits?
Most benefit plans cover acupuncture and at Thrive we direct bill to most major insurance companies! Please bring your insurance information with you to your appointment and we will try to direct bill your individual benefits plan! You can also contact your insurance company directly to see what your individual plan covers.
How many treatments will I need?
This depends on your specific concerns and goals! Usually with pain or sports injuries, you'll notice effects anywhere from 1-3 treatments with maximum relief around the 6th appointment. The longer the injury is present, the longer it takes to fix. Some patients feel great after one treatment, and while we always recommend maintenance care, the choice on how often you come is ultimately up to you! Fertility patients can expect slightly more treatments because we are working with the timing of your body, a process that cannot be rushed!
Will you work with my doctor or other practitioners?
If you have a specific concern that you are working towards addressing with a medical doctor, we can absolutely work in conjunction with them, or request your records on your behalf if you would like us to!
We also work alongside the other practitioners on our team and in the community to ensure continuity of care across all treatment types.
Can I get acupuncture if I am pregnant?
Absolutely! It is important if you are pregnant to tell your acupuncturist because the treatment protocol during pregnancy is much gentler and certain areas are avoided. In your first trimester acupuncture helps to nourish the body and maintain a healthy pregnancy. Acupuncture can also help in reducing fatigue, nausea, constipation, and heartburn. In your second trimester acupuncture helps to continue alleviating these symptoms as well as managing the new aches and pains that pregnancy can bring. As you move into your third trimester acupuncture helps prepare the body for labor, relaxing the ligaments, softening the cervix and increasing blood flow to the pelvis. Acupuncture can even assist with mamas who are past their due date by helping soften the cervix, promote dilation, strengthen contractions and move baby along into the birth canal!
What can I expect on my first visit?
Your first visit with us will include a thorough review of you health history, discussion of your concerns and desired outcomes for treatment, as well as your initial treatment! You will leave the appointment with a recommended treatment plan customized to your individual goals. The first appointment is generally 90 minutes and follow up appointments are typically 60 minutes.
What if I am afraid of needles?
For patients with needle-phobia, treatments go at a slower pace, are gentler, and your acupuncturist stays in the room with you in case you need anything. Your treatment is exactly that; yours! Our Acupuncturist will work within your comfort zone. Your appointment should leave you feeling confident, relaxed and in control, never anxious or stressed. If you have concerns or questions, please let us know; we would love to schedule you in for a FREE 15-minute consultation with one of our acupuncturists!
Get Started Today
Want to learn more about acupuncture? Contact us today to schedule an appointment!
CONTACT US »
---
Acupuncture Southwest Edmonton AB | (780) 244-2441