Pregnancy Chiropractic in Southwest Edmonton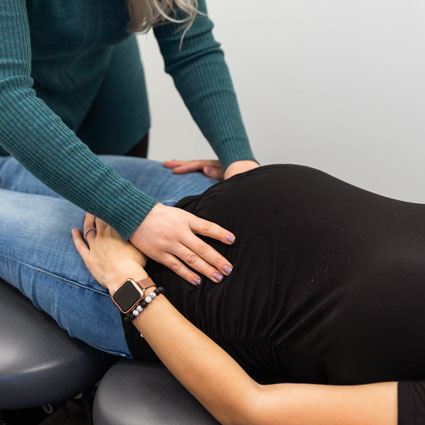 No matter which stage of pregnancy you're in, you want to remain comfortable and know that you're making good choices for your baby. Chiropractic is helpful for pregnant women and all the way through postpartum to make sure that your body stays in alignment. At Thrive Chiropractic & Wellness Centre, one of our main areas of focus is on pregnancy care.
Happier, Healthier Pregnancies-Naturally
When you're expecting, nothing is more important than your health and that of your developing baby. Chiropractic can provide the reassurance you need to make sure your body is in an optimal state for your baby's delivery. Pregnant women can benefit from chiropractic just as much, if not more than, your average person.
During pregnancy, it's common to have aches and pains. You may also be concerned about the way your baby is developing and your upcoming labor. We want to make sure that we create the best possible environment for your baby to grow. If you're in any discomfort, we'll be sure that we work toward relieving it.
Our Pregnancy-Appropriate Techniques
Dr. Jenna and Dr. Jacy are certified in the Webster Technique through the International Chiropractic Pediatric Association (ICPA). They studied advanced prenatal care courses and can provide the safe techniques you need. With the Webster Technique, we'll seek to establish balance in your pelvis and reduce the stress on your uterus and supporting ligaments. In doing so, we want your baby to be in the best position for birth.
Individualized Care Plans
At Thrive Chiropractic & Wellness Centre, every individual who seeks our help receives a care plan that's customized to them. Our pregnant moms are no different. If you are under wellness care, you may have less frequent visits than someone whose baby is in a breech position. How often you see us will depend entirely on what your goals are.
Get the Attention You Deserve
We'd love to work with you. Contact our office today to schedule your first appointment and start your health journey through pregnancy care Southwest Edmonton!
CONTACT US »
---
Pregnancy Chiropractor Southwest Edmonton AB | (780) 244-2441