Massage Therapy in Southwest Edmonton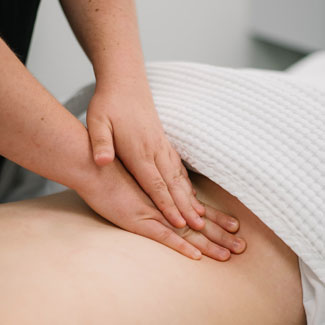 Who doesn't need some time for relaxation? You can reduce muscle tension and find relief from your pain with massage therapy. Your overall well-being can be enhanced during a session with our Registered Massage Therapist (RMT).
A broad range of musculoskeletal conditions can benefit from massage. Everyday stress, overuse of muscles, pre- and postnatal symptoms, the physical manifestation of mental distress and other persistent pain syndromes are all ailments that can be assisted by massage. You can receive massage therapy on-site at Thrive Chiropractic & Wellness Centre.
What a Massage Can Do for You
Massage therapy can be an essential part of your health maintenance plan by boosting lymphatic drainage and joint mobility. It can also reduce muscular tension and pain levels. Those with acute and chronic conditions can benefit from having a massage. RMTs work with a wide variety of patients in the management of illness, injury, rehabilitation and disability.
How Massage Works
Massage therapy improves your circulation by bringing oxygen and other nutrients to the body's tissues. It relieves muscle tension and pain, increases flexibility and mobility and helps clear lactic acid and other waste. When this occurs, pain and stiffness in the muscles and joints will reduce.
Massage therapy can prove beneficial to many conditions, including but not limited to the following:
Anxiety and depression
Arthritis
Asthma and emphysema
Cancer
Carpal tunnel syndrome
Chronic fatigue syndrome
Dislocations
Edema
Fibromyalgia
Headaches
Inflammatory conditions
Insomnia
Lymphoedema
Multiple sclerosis
Muscle tension and spasm
Parkinson's disease
Plantar fasciitis
Post-surgical rehabilitation
Post-traumatic stress disorder (PTSD)
Pregnancy and labor support
Sciatica
Scoliosis
Sports injuries
Strains and sprains
Stress and stress-related conditions
Stroke
Tendinitis
Whiplash

Massage therapy can also be used as part of a preventative care program. The applications for it include sports training, injury prevention, ongoing stress management and more!
Our Massage Techniques
RMTs can use a broad array of techniques, including applying fixed or movable pressure, holding, or causing movement to the body. Our therapists primarily use their hands, but may also use their forearms and elbows.
At Thrive Chiropractic & Wellness Centre, we offer many types of therapeutic massage, such as
Deep tissue massage
Geriatric massage
Prenatal massage
Sports massage
Swedish massage
Trigger point therapy
What to Expect When You Become a Massage Patient
On your first visit to our clinic, you will have a thorough consultation before your massage. Your massage therapist will require an overall picture of your current health and a detailed health history to design a plan that's right for you. If your massage therapist determines that your condition would be better addressed by another healthcare professional, they will make the appropriate referral.
At Thrive Chiropractic & Wellness Centre, our goal is to provide patient-focused care. That means that we promise to listen carefully to every patient's needs, design an appropriate care plan, and pay attention to comfort throughout the massage. Our RMTs are experienced, highly skilled therapists that provide personal care in a healing environment.
The Cost of Massage
| | |
| --- | --- |
| 30-minute massage | $65 |
| 45-minute massage | $80 |
| 60-minute massage | $95 |
| 90-minute massage | $135 |
| 5 (60-minute) massage package | $425 |
| 10 (60-minute) massage package | $800 |
| 5 (90-minute) massage package | $600 |
| 10 (90-minute) massage package | $1,150 |
Get Ready to Relax
Do you need to take some time to de-stress? Massage therapy Southwest Edmonton is the perfect way to do so. Contact us today to schedule your massage session!
CONTACT US »
---
Massage Therapy Southwest Edmonton AB | (780) 244-2441