Meet Our Lactation Consultants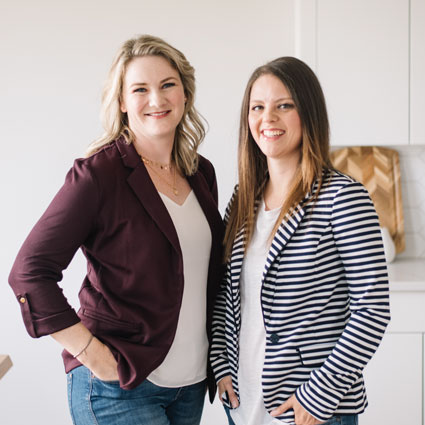 Meet Melissa and Mychelle of Little Nursing Co.
Melissa and Mychelle work to support families who are struggling with breastfeeding, bottle feeding and infant sleep. Both Mychelle and Melissa have extra training in assessing tongue function and can recommend oral exercises/suck training for infants who are struggling.
Both Melissa and Mychelle are International Board Certified Lactation Consultant (IBCLC) and Registered Nurses in labour and delivery. Mychelle is also a Holistic Sleep Coach.
Their passion is and has always been supporting mothers to achieve a successful and positive experience feeding their babies!
Melissa and Mychelle will be available for consultations and appointments at Thrive by appointment only.
Appointment Types
PRENATAL BREASTFEEDING EDUCATION | $100
Get your most important lactation questions answered with thoughtfulness and care in our 1 hour breastfeeding education session. Intended for you and your support person, this session will be tailored to your needs and goals.
Some common topics include your baby's feeding cues/hunger signs, feeding positions (breast and bottle), signs your baby is getting enough milk, breast pumps/pumping and so much more.
INITIAL VISIT | $150
After reviewing your little one's health history we will observe a feed by either breast or bottle, conduct an oral assessment, measure and record baby's weight and discuss any concerns you may be having.
We will create an individualized care plan for you and your family and recommend any further visits or consultations.
POST FRENECTOMY VISIT | $75
Following your little one's frenectomy we will assess the wound healing and latch, suggest stretching to help support recovery and offer suck retraining as well as answer any questions and concerns you may have.
---
Lactation Consultants | (780) 244-2441