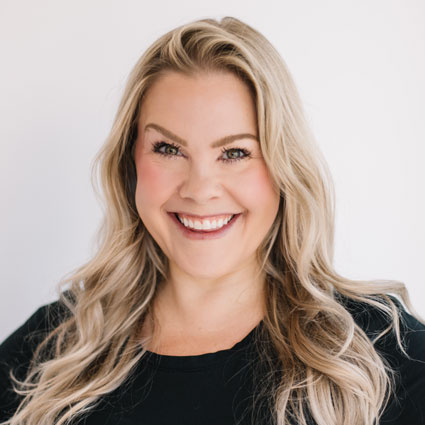 Meet Dr. Jenna Ewasiuk, DC
Chiropractic Kept Me Healthy
Dr. Jenna's desire to become a chiropractor was one that stemmed from her own personal experience. At a young age, she broke her femur, leading to a noticeable difference in one leg length and a scoliosis of her spine. After suffering excruciating back and hip pain during dance classes, her parents took her to a Chiropractor.
Dr. Jenna saw first hand the power of chiropractic. With the help of her chiropractor, Dr. Jenna was able to dance at a highly competitive level.
Developing a Focus on Families
Dr. Jenna completed her Bachelor of Science from Simon Fraser University in Vancouver, British Columbia and obtained her Doctorate of Chiropractic from the University of Western States in Portland, Oregon. Early in her chiropractic studies, Dr. Jenna was introduced to pediatric and family chiropractic. She knew this would be her focus and passion.
I was introduced to the belief that chiropractic could help young children and families get well and stay well. That's what drives me. By addressing spinal health at an early age, you can prevent future problems and teach kids the importance of healthy living.
Dr. Jenna graduated with a Doctor of Chiropractic in 2014. She then moved to Edmonton and has been a part of our community since.
I wholeheartedly believe that chiropractic is the most effective, safe and natural way to help the body heal without medications or other invasive procedures.
To provide the best prenatal and pediatric care, Dr. Jenna has taken several courses with the International Chiropractic Pediatric Association (ICPA). She is certified in the Webster Technique for pregnancy through the ICPA. To stay informed on the latest research in the industry, she attends regular seminars.
CHIROPRACTIC CARE »
Keeping a Balanced Lifestyle
Dr. Jenna believes that optimum health can be achieved with a combination of exercise, a balanced diet, a positive attitude, time spent outdoors, and a healthy nervous system that comes with having a well-aligned spine!
Dr. Jenna and her family support one another in living this healthy lifestyle. Running and going on family bike rides outside in their community, practicing yoga, or supporting her children Zachary and Adeline in their activities are just a few of the things Dr. Jenna enjoys in her spare time!
Learn More Today
Find out whether we can help you and your family stay well. Contact us today! Thrive Chiropractic & Wellness Centre has same-day appointments available if you'd like to get started immediately.
---
Dr. Jenna Ewasiuk | (780) 244-2441