New Patients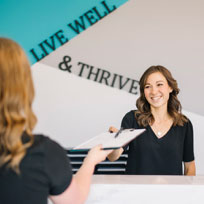 Thrive Chiropractic & Wellness Centre is a bright, cheery place that will relax you from the moment you step in. Everyone you see has a smile on their face and is genuinely happy that you're here. You've made a great decision in choosing us, and we can't wait to work with you!
NEW PATIENT FORMS »

Your First Visit
Please bring in your new patient forms filled out, which you can download and print from our website. Wear comfortable, loose-fitting clothing that you can move around in. When you arrive, you'll be taken on an office tour so that you know where everything is. Then, you'll sit down with Dr. Jenna or Dr. Jacy to have a consultation and talk about your health history.
To locate the cause of your problem and deliver results, we'll perform a thorough examination consisting of
Digital infrared neuro-thermal testing
Computerized posture analysis
Functional range of motion assessment
Bilateral weight distribution testing
Orthopedic and neurological testing
If you require X-rays, we'll refer you out for them. If you do not need imaging, we may give you an adjustment on your first visit. You'll be on your way in about 45 minutes to an hour.
Your Second Visit
When you return, you'll meet one-on-one with Dr. Jenna or Dr. Jacy to talk about the results of your examination. We'll answer all the questions you have and let you know when you can expect results and all costs involved. Your unique care plan will address your specific concerns and is centered on reaching your health goals.
Insurance Accepted
We take all of the most common insurances and do direct billing. You can use all major credit cards to cover any portion of your costs. Contact us today to schedule your first appointment!
CONTACT US »
---
New Patients | (780) 244-2441